Some people make a strong first impression. The year was 2009, and I was sitting on a pub terrace together with Amoral-guitarist Ben Varon and Before the Dawn's Tuomas Saukkonen. The reason for our meeting was Amorphis' upcoming five-week tour of Europe that autumn. I had been chosen as the head of technical production for this tour, which is why I arranged this meeting with the "leaders" of the Finnish supporting acts. I felt encouraged by the positive and sensible attitudes of both of these young musicians. There would be no ego clashes on this tour, what a relief! On my part, I promised to look after the needs of the supporting acts, too, by helping them to set up their backline and by servicing/repairing their gear, should the need arise. 
Amoral had gotten a flurry of media exposure recently, sadly, not all of it for the right reasons. The band had just released their "Show Your Colors" album and made a very brave move to hire Idols-winner Ari Koivunen as their new vocalist. Koivunen was derided by many of the band's hardcore fans. The new album and singer also brought about a stylistic shift away from brutal Death Metal towards more melodic LA Glam Metal, which especially upset some of Amoral's old fanbase.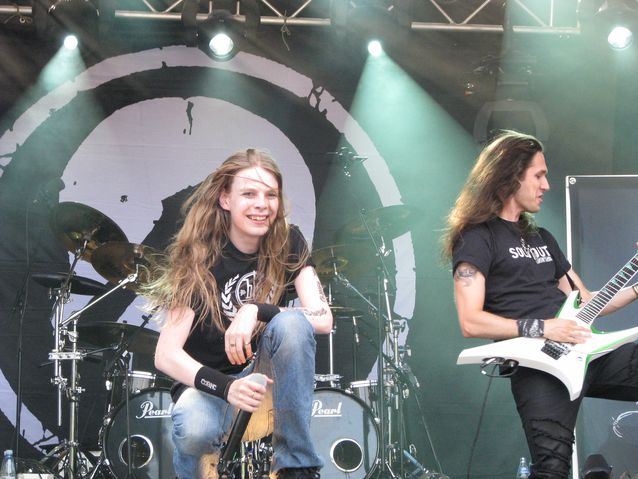 These were things that naturally popped up during our conversation that evening. Ben's comments were to the point:
"We started Amoral when we were very young, only 14 or 15; this means I'm still in my first band! People change over time, and while it might have felt great to play technically advanced Death Metal at 18, eight years further down the road you may find yourself looking for something different."
"With hindsight you can see that our musical direction had already started to evolve on the record before this one – it was much more melodic. When our then-singer (Niko Kalliojärvi) decided to take time out from the band to ponder his life, we were ready for a drastic change. The change may have been a little too drastic for some, but what's done's done!" Ben said. "Our new songs are a lot of fun to play, and this is what really counts at this moment." 
Ben's rig
In the autumn of 2009 Amoral did a job of Herculean proportions, when they went on a tour of Europe in a van. You have to be tough and rather gung-ho to organize successfully a tour with six guys in a van, taking shifts driving. Amoral made it through with flying colours, and they still hold fond memories of this tour: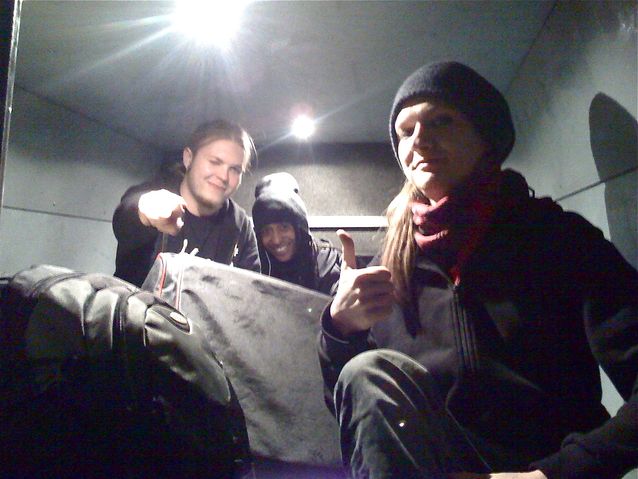 Both supporting acts won me over with their professional attitudes from the get-go, and I quickly realized that Ari Koivunen was also a fun guy to work with. My work with Ben, which is still ongoing, started in earnest at a soundcheck in Dresden (Germany). The first point on the list: equipment troubles. 
At first glance, Ben's pedalboard looked well thought out. Nevertheless, on closer inspection I found some loose jacks, some sand/dust, as well as a broken plug or two. Even back then, PRF's blue switch cleaner, a bag of adhesive safety clips and a box of angled Switchcraft jack plugs followed me whenever I was out on tour. The first aid I performed on the pedalboard during that soundcheck – consisting mainly of general contact cleaning and some signal re-routing – got us over the rest of the tour with no more problems. Shortly after this tour, Finnish musician's magazine Riffi ran an article on Amoral's touring gear, featuring Ben's well-used 'board.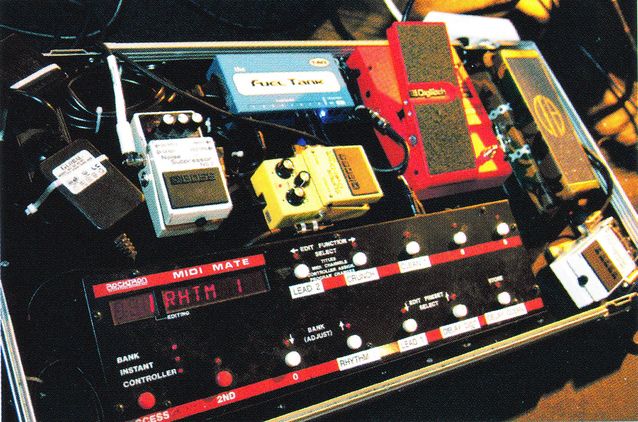 Evolution's in the air
Over the next few years following that tour, Ben's evolution as a guitar player seemed to go hand in hand with changes on his pedalboard. The heart of Ben's rig was, and still is, his Marshall JMP-1 preamp, which is controlled via MIDI from his 'board. There was a Rocktron Intellifex in his rack, which was also switched using MIDI. The stompboxes on his pedalboard were connected in series, and were not part of the MIDI-set-up. The basic tonal recipe was kept intact over time, but some changes were on the horizon.
Grease Helmet and Andy McCoy
Ben's life got an interesting twist, when Grease Helmet – a band founded by Jere Garcia (vocals) and Niclas Etelävuori (bass) – first took on board Andy McCoy (ex-Hanoi Rocks) as their guitarist, and then added Ben Varon (who's about 20 years younger) to their line-up, too. 
And Ben seemed able to take this in his stride. Grease Helmet's music is firmly rooted in Rock 'n' Roll, with no place for Metal-riffage. Ben lived up this challenge like a champion: he plays on the band's albums, seasoning the group's sound with a nice helping of freshness to go with the living legend that is Andy McCoy. I really had to ask Ben what it felt like to share the stage with Finland's best know guitarist:
"Right off the bat I studied Andy's playing style closely. We come from totally different directions, and his playing style is very personal and idiosyncratic. My starting points have always been tabulatures and the metronome, trying to get both hands to work together precisely and seemlessly. Andy makes his Marshall grate and screech, and his technique is sloppy at times. But Andy's feel can't be beat, he has a fountain of fantastic licks and his melodic sense is unbelievable."
"Stylistically, Grease Helmet and Amoral are like day and night to me. With Amoral you won't stand a chance of making it through the first song alive without a thorough warm-up. In Grease Helmet I'm the rhythm guitarist, playing open position chords or power chords. My playing couldn't be any more different. Nicky (Niclas) and Snoopy (= Jan Rechberger, drums) are inspiring "partners in crime", and I can play jangly A's and G's with my Les Paul slung low."

August 2012 
In August 2012 Ben stopped by Custom Sounds to give his pedalboard a once over. During our first session, I reattached his pedals more securely and redid the wiring completely. A Whammy-pedal was a new addition, and Ben's MIDI-switcher got his own Voodoo Lab AC-power supply. I also made a cable snake for Ben to connect his wireless receiver (in the rack) to the pedalboard, and the 'board to his Marshall preamp.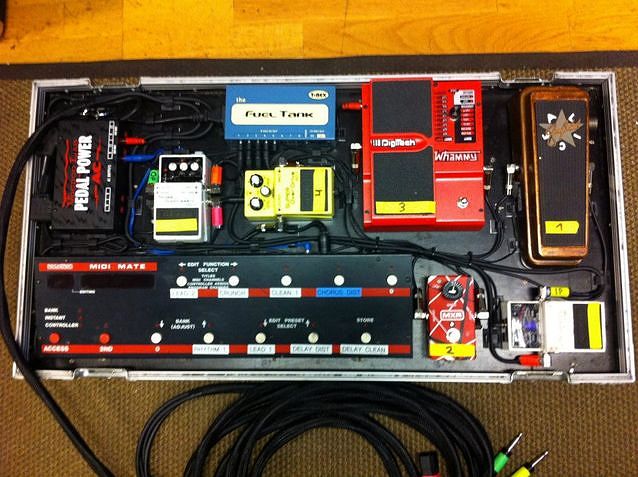 A proven signal path
I hooked up the 'board in a road-proven fashion. The signal ran from the wireless into a Boss NS-2 Noise Suppressor, and straight out of the NS-2 into the Marshall's input. All effects were connected to the NS-2's effects loop, making it easy to fall back onto the straight signal in cases of emergency, simply by disconnecting the Return-jack.
The Boss NS-2 had long been a favourite of mine, and I used to carry a spare unit on tours for emergency surgery. The ISP Decimator had been on my radar, though, and after finally having had the opportunity to test the American contender during a Ministry gig, I had to concede that it is a more advanced noise suppressor than the Boss. Still, it took almost a year before we managed to lay our hands on ISP products for our shop, but this was when the Boss' reign in my personal toolbox came to an end.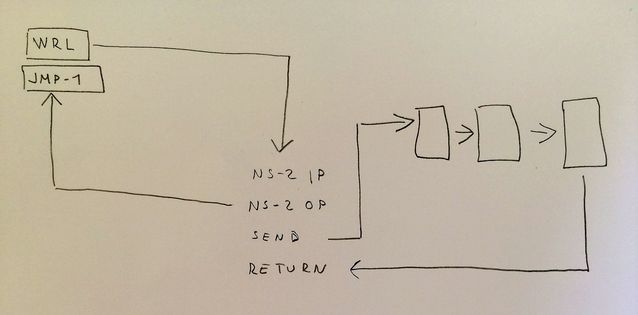 February 2014
In February 2014 Ben's pedalboard got its most drastic overhaul. Amoral's new album, "Fallen Leaves & Dead Sparrows", was about to be released in March, and Ben needed his effects path to reflect the needs of their new album tracks. He had grown tired of doing the "tap dance" routine on his stompboxes, so I suggested throwing out the MIDI-switcher in favour of a Musicom-looper. The Musicom had gained my trust as a reliable piece of gear, and I was quite sure it would work well in Ben's context.
Now Ben is able to call up different effect combinations, while at the same time switching amp channels, with one push of a footswitch. A few new effects were also added at the same time, all routed via the Musicom-looper. The war-weary Intellifex was replaced by a brand-new Strymon Timeline. The end result left both of us extremely satisfied, and we decided to document this set-up for the viewing pleasure of the rest of the guitar-playing world.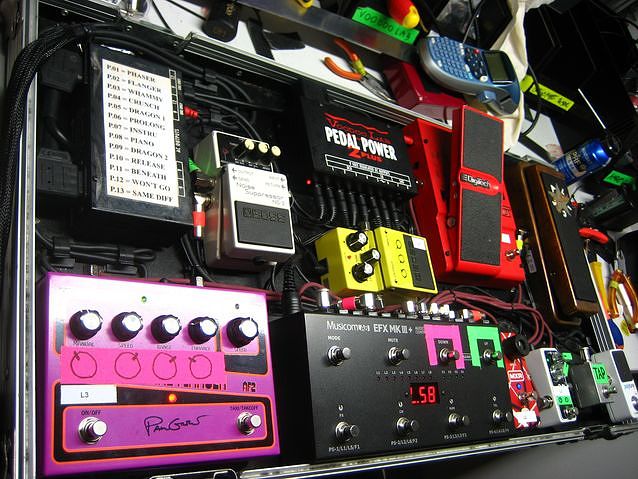 May 2014
We meet at a rehearsal studio (Sound Inn, Helsinki) to film a video with Ben explaining the inner workings and tonal options of his rig. Ben uses riffs and snatches from both of his bands' tracks, showing us a wealth of different tonal variations.
At the end of the video clip, we did a straight A/B sound comparison between a wireless system and a guitar lead. Ben had grown tired of drop-out problems he had experienced with a digital wireless system, which is why he chose an analogue Sennheiser set-up, which is featured in the video.

A few little tweaks more
Just as I thought Ben's pedalboard was perfect, he decided on a few more changes. His Whammy IV was starting to become very erratic, suffering from power drop-outs, so we installed the newest version instead. This made the AC-power supply redundant, so I took it off the 'board. Now there was enough space to fit Ben's new acquisition, a Strymon Lex, but this left us with not enough power from his old power supply. I solved the problem by swapping the old power supply for a Voodoo Lab 4x4, which offers enough outputs and enough juice to run Ben's 'board without problems.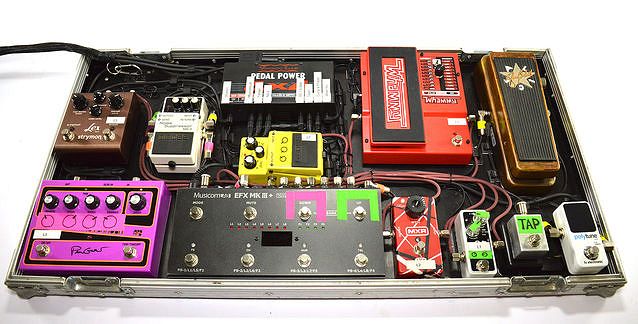 Grease Helmet – live on stage
While I was editing a video, I received a surprise phone call in Juli 2014, asking me to work as Grease Helmet's guitar tech at a gig in Hämeenlinna (Finland). Thinking this would be a good way to round out this article I agreed. A few days later I found myself in a car driving up to Wanaja Festival. The band had asked me to take along five sets of 10-46 strings for Andy McCoy. As they hadn't requested any specific brand, I decided to try out Scalar strings, made famous in the Eighties by "string doctor" Dean Farley.
During the ride I got to talk with Ben about the job ahead. My mission was clear – keep Andy in tune at all cost! Mr McCoy's no-holds-barred playing style means that guitar changes have to be frequent, if possible, after each song. Teching for Andy is always a bit like jumping off a cliff – you never know what's going to happen next! Ben and (bassist) Niclas promised me they'd take care of their own gear, so I could concentrate all my efforts on Andy.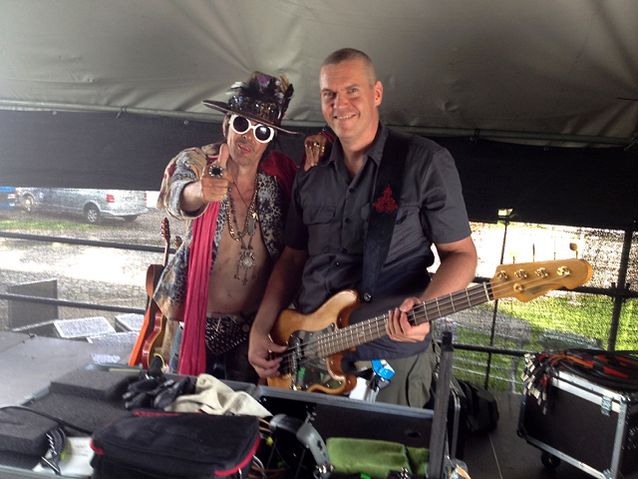 Andy McCoy
Everybody knows plenty of crazy anecdotes about Andy McCoy (born Antti Hulkko in 1962), so it's no wonder we managed to share some fun stories during the ride to the gig. One of my own indelible memories comes from a Hanoi Rocks gig in 2008. From the instant the band started, the whole place went berserk, which was to be expected. During the second song into the gig some dumb-ass threw a long drink directly onto Andy's pedalboard. I dashed onstage to clean up the mess, but the sugary bewerage had already wreaked havoc on the maestro's effects. The signal was cutting out, so I had to bypass the whole 'board. When the song was over Andy angrily told off the crazy crowd, but then went on with the show, as if nothing had happened. For the rest of the set Andy played like a genuine guitar god, having wiped the drink incident off his mind completely. He even stepped on his (disconnected) effect pedals in the right places. This is what you call muscle memory! (photo credit: Janne Metsola)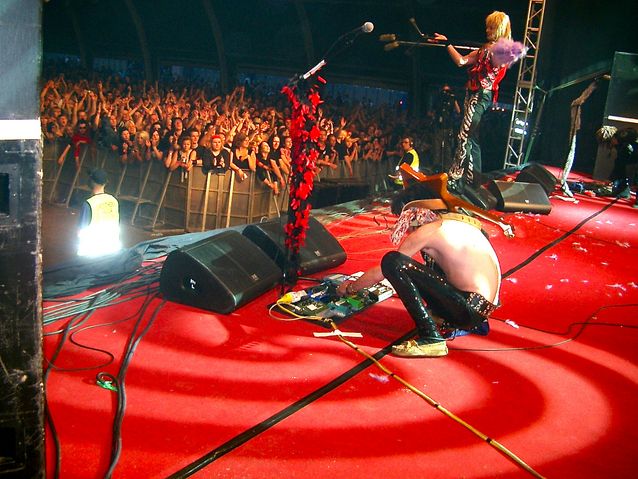 Andy and Reverend Guitars 
Andy and I had crossed paths again only very recently. About two weeks before the gig, on the day royalties were paid to Finnish recording artists, he stepped over Custom Sounds' threshold with a 12-string acoustic he had bought just minutes ago at a different shop nearby (Kitarapaja). Andy stumbled his way across to our wall of Ruokangas guitars, attempted to light a cigarette inside our shop (which is forbidden under Finnish law), and found out he was missing his credit card, only to find it outside our shop in a puddle of water on the sidewalk. All in a matter of a couple of minutes. That's typical of Andy, I'd say. Finally, the legendary guitarist settled on a Reverend model, a Ron Asheton Signature (late Iggy & The Stooges-guitarist). He said he was going to use it onstage, even though he already called several dozen guitars his own. (photo credit: Barry Kling)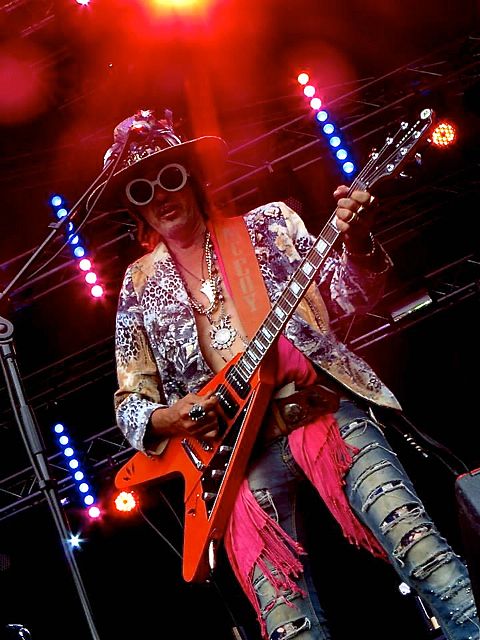 Doing Hämeenlinna
With this recent escapade in mind, I unpack guitars and quickly start changing strings at the side of the stage. Some guitars have broken strings, and I even find a couple of bronze strings for acoustic guitar on one of Andy's Stratocasters (which I discard without further ado). Looking at the extremely plain packaging of the Scalar strings sure makes you wonder if these really are quality strings. I put Scalars on three of the guitars and start stretching the strings (for tuning stability) using the String Stretcha. After going over each string several times with the Stretcha (and retuning), I closely inspect each string by looking at the evenness of the ellipse each string forms when plucked. Before this magical little tool was made available, stretching was done by hand with variable results. If the string wasn't stretched enough or not evenly enough, this would lead to tuning problems. If, on the other hand, your stretching was a little overzealous, you ran the risk of physically damaging the string, leading to string buzzing or bad intonation. These days I don't even consider changing strings without the String Stretcha.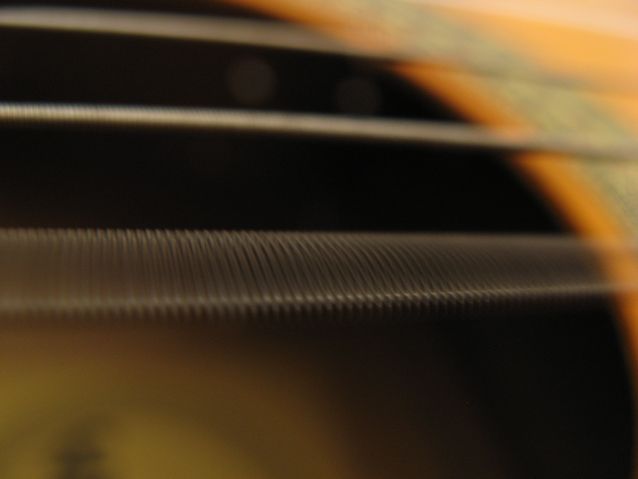 If a string isn't made completely uniformly, it will never vibrate evenly. The first three sets of Scalars I have installed seem to be up to the job, though, and don't budge even when bent a lot. Their feel seems quite similar to D'Addarios, and their sound has the right timbre for Rock 'n' Roll, taht's what I think, at least. I don't expect to get much detailed feedback from Andy, as he seems to get to grips with acoustic strings on an electric, too… 
Next, I check Andy's pedalboard and dial in his amp settings. A few minutes later the man himself arrives, and we go over the setlist and mark the right spots for guitar changes in my setlist.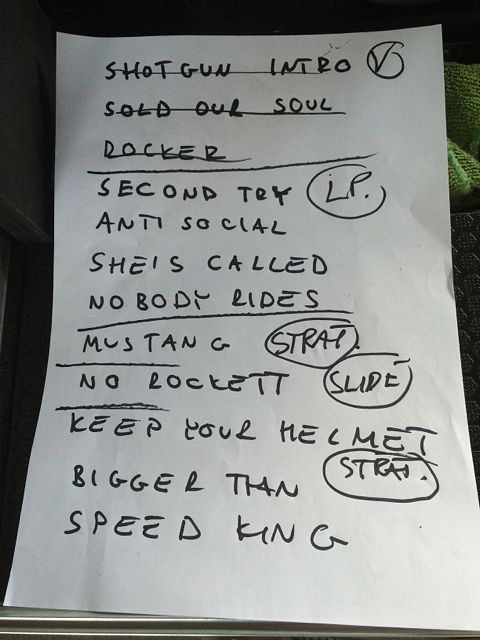 With everything laid out clearly, I'm ready for the gig. The concert starts with the Reverend, which Andy uses for the first three numbers. I had asked the monitor mixer for Andy's signal (and nothing else) to be sent to my personal monitor, so I know exactly where we stand, both technically and from a tuning perspective. After the first three tracks, Andy's gorgeous Gibson Les Paul is brought out for one song. When this song is over, I walk over to Andy, mute his pedalboard, disconnect his Les Paul, hand him his next guitar, make sure he's plugged in, and all controls are turned up fully, turn the bypass off and give the strings a light strum so we both can hear everything's in order. And the show rolls on…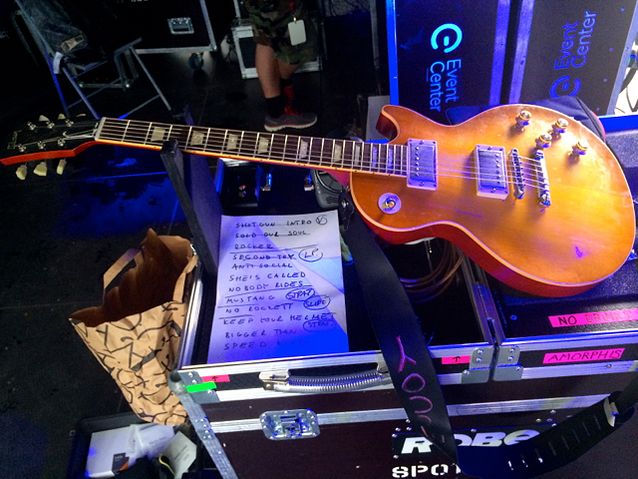 I carry on in the same fashion. The next guitar is a Gretsch Electromatic, which Andy has also used for Hanoi Rocks gigs. The guitar is used for slide parts and tuned to open E.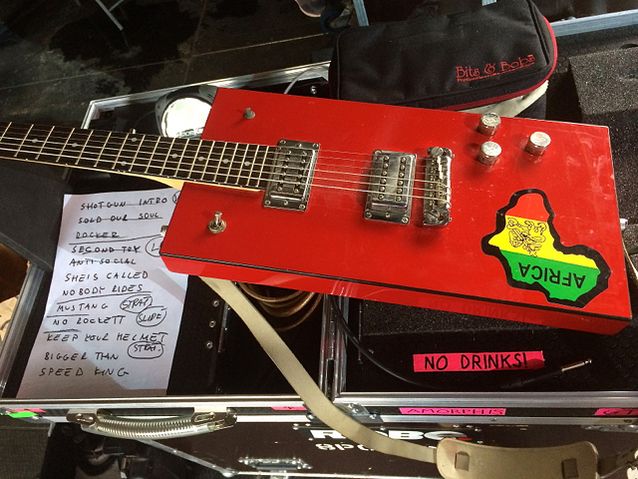 Last up is one of the two Strats Andy has brought with him. Andy prefers one of the Stratocasters, he says he dislikes the tone of the other guitar. During these final songs I watch Andy using the vibrato bridge in a very wild way, bringing about the type of tuning problems I had heard about before. Andy seemed to do fine with fixed-bridge guitars.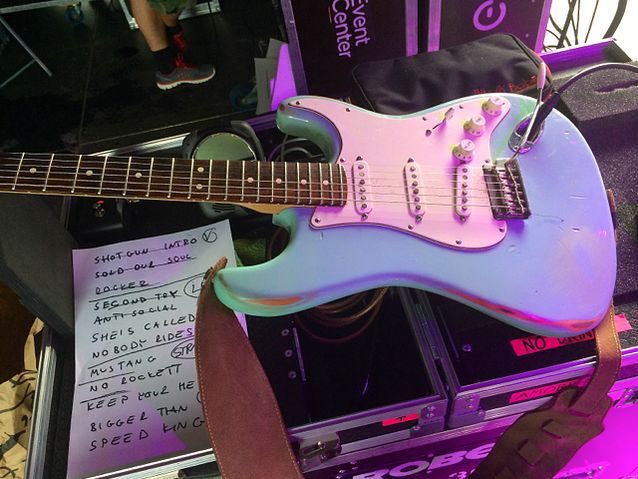 Two guitarists, two different styles
I found time to watch both Grease Helmet guitarists at work during that gig. There was much truth in Ben's summarization of his and Andy's playing styles. Andy is much more of a gutsy roots-style player than the younger Ben. It seems that Andy is able to come up with a neverending wealth of cool riffs and licks, provided he's playing in a key that's familiar to him. His style is very energetic and has a strong smell of danger about it. He knows what to play to fit the style of the song, he's sure of himself and a showman par excellence.  
On the other hand, Ben doesn't seem to have any trouble keeping up on his side of the stage, either. He keeps the groove going and is right in the proverbial pocket. Grease Bucket's music works as well as it does, because Ben and Andy make for a great combination. Two Andys would possibly make the music too wild, while two Bens would probably make the band lack that special ingredient. Watch this clip of Grease Bucket grooving away:

On the way home 
After the show we had plenty of time to talk about Grease Helmet's upcoming record and the band's two guitar players. The show had gone down well, and everyone was in a good mood. We left Andy behind to hold court, and so he could take full advantage of the catering, before being ferried home by his own chauffeur. 
The singer, Jere Garcia, told me that the recording sessions had gone down very well. The basic track were already in the can, while the vocal tracks and guitar overdubs were in the process of being recorded. The new track the band had played at the gig left me waiting for the album in anticipation. There simply is never too much good Rock music to go around! 
As we approached Helsinki, I asked Ben about his guitar playing influences. We both agreed that, although we now hold Andy's playing in high esteem, he hadn't really been an influence during our formative years. Although, in Ben's case, his idol comes from a similar genre: 
"Slash is still my personal number one! When I heard him first, as a young boy, I was sure I had found the greatest guitarist ever. And he still is, in my eyes, one of the most style-conscious players around, with a sound that's instantly recognizable."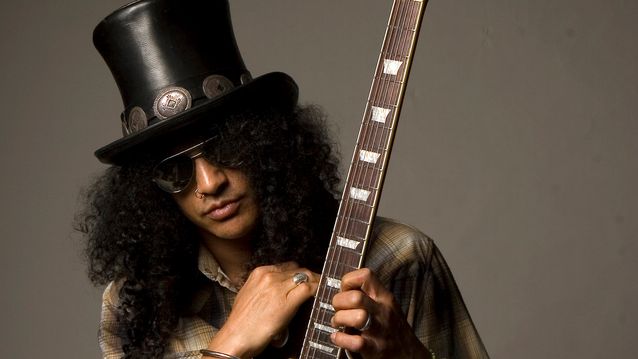 I wonder what Slash would have to say about Andy's playing-style. The two have crossed paths in Los Angeles many years ago. Andy lived in Hollywood at the same time that Guns N'Roses made their breakthrough. Andy was then around 30 years old, the same as Ben's age now. From a Finnish point of view, in the Eighties, Andy really was a true man of the world.
But, sadly, Andy's time in the USA didn't end on a high note. He left with his (now-) wife Angela, who had previously been Izzy Stradlin's (Slash's bandmate) girlfriend. Guns N'Roses' manager Alan Niven even accused Andy of being responsible for drummer Steven Adler's drug-fuelled descent into chaos. This in turn led to the break-up of the band. Be it as it may, for some reason Andy hasn't set foot in America for over 20 years. There are different rumours as to the reasons why, but only he knows the truth. Andy is now 52 and still leads his Rock 'n' Roll-lifestyle, probably for good.
"Quite the Rock-pirate!" I think to myself. And a legendary musical icon in Finnish Rock history. Luckily, there are also a lot of great musicians among the younger generation. I glimpsed at a few of them in the rearview mirror, as I shifted gears. We had 42 kilometres more to go, before we would reach Helsinki. I am 42 year old today, how many more years do I still have ahead of me?
13.8.2014 Kimmo Aroluoma 
The author is one of Custom Sounds' owners, and an incorrigible guitar and gear enthusiast