Amorphis have gained a near-iconic status in Finland. This Metal-band has forged its sound by combining traditional Finnish influences with 1970s Progressive Rock and Metal, seasoned with a sprinkle of World Music influences. This year Amorphis celebrate the 20th anniversary of their ground-breaking album "Tales from the Thousand Lakes" (1994). This release was well ahead of its time, when it first came out, especially thanks to the material's melodic sense that broke through the usual genre barriers of Heavy Metal. Here was a band clearly willing to take musical risks.
The cornerstone of Amorphis' sound is the way guitarist Esa Holopainen's delay-drenched guitar lines interweave with the keyboard melodies. The band have never been afraid of looking for sounds outside of the traditional Metal genre, and of using effect pedals to their advantage. Their first record still stuck mostly to the tried and trusted formula of early-Nineties Death Metal bands. Amorphis was part of the new wave that re-energized Metal music.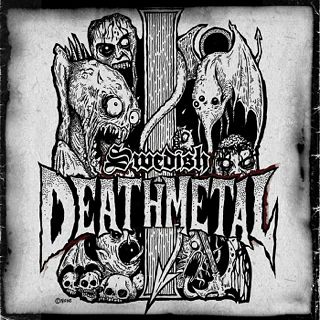 Strange sounds from Sweden
Entombed's Nicke Andersson was enthralled by the sounds of British band Napalm Death, and wanted to get his own band to sound just as brutal. He found a kindred spirit in Tomas Skogsberg, owner of Sunlight Studio. Together they set out in a quest for the most-brutal guitar tone ever. What they came up with still sounds fresh today. 
The Stockholm school of Death Metal has gained fame for its uncompromisingly grating guitar tones that make your ears bleed. The original incarnation of this signature tone was shaped by using detuned guitars, a 60-watt Peavey Bandit combo, as well as a Boss HM-2 Heavy Metal -pedal. The Boss controls were all turned up fully, which resulted in oodles of in-yer-face midrange and completely over-the-top, saw wave style distortion. The combo's speaker was miked up from inside the combo (!). Skogsberg even tended to add a further distortion pedal (the Boss DS-1) to the signal chain for an unprecedented über-dirty Metal-tone.
The new "Swedish sound" did not please everybody. I can still remember thinking that this type of tone was too rude and pushy. The writing had already been on the wall on Entombed's demos, but their debut album sort of crystalized the new sound into front page news. Rumba-magazine's Nalle Österman was one of the earliest and most vocal supporters of the Swedish Death Metal sound.

In Finland, Tomi Koivusaari, guitarist with Abhorrence, also had a penchant for very brutal guitar sounds. When he started to work with Esa Holopainen from Speed Metal band Violent Solution, the foundations for the Amorphis were laid. The rest of the group were recruited from the guitarists' inner circle, and they changed their name from Abhorrent to Amorphis.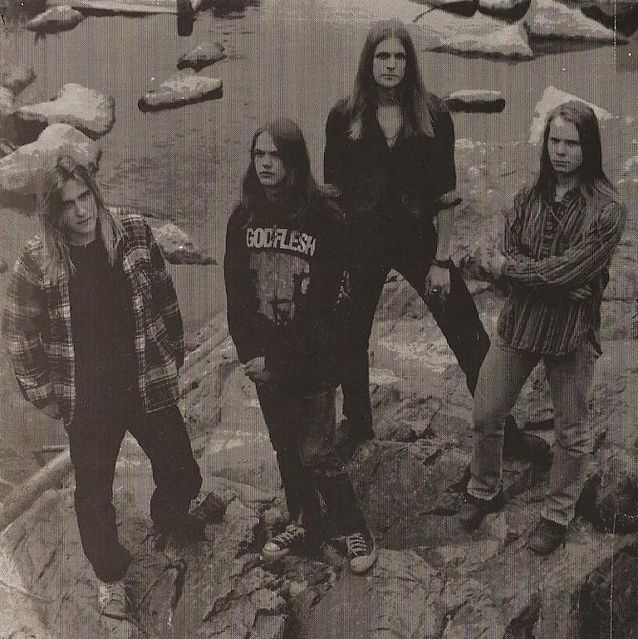 The newly-founded band was very active in tape trading circles, and even managed to get their tape heard in the USA. Amorphis got an offer for a recording deal with Relapse Records. Buoyed by the production budget Amorphis set off to Sweden to record their debut album, with Tomas Skogsberg producing. "Karelian Isthmus" (1992) is a typical Death Metal album from the early Nineties, both in terms of musical content and guitar sounds.
Part 1 – Rise 
When their debut album was released, the band members' musical tastes had already broadened outside of the Heavy Metal genre. Clear traces of Finnish folk music started creeping into the band's material. It may have been folkish, but the songs were still played on low-tuned electric guitars running into Boss HM-2 pedals. To underline these new currents on their musical style, Amorphis added a second vocalist, as well as a keyboard player to their band.
Before then, guitarist Koivusaari had been grunting the lyrics in typical Death Metal fashion. Now the band wanted to add "clean" singing, too. They brought in Ville Tuomi, know for his great singing in his own band – called Kyyria – for the recording sessions.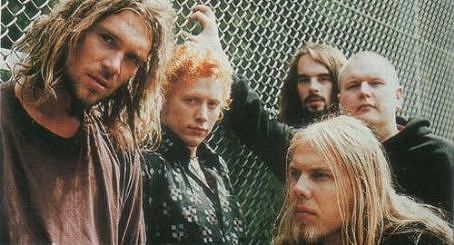 The other important ingredient was keyboardist Kasper Mårtensson, whose father Lasse Mårtensson was a famous singer and composer. Kasper's influences included both Finnish folk music and contemporary Rock. He got to shine especially on the track "Black Winter Day", which soon became a sort of theme song for a whole generation of Metal-fans. 
A good sign of how different the band's new material really was, were Tomas Skogsberg's doubts whether the band's record company would even release this strange type of music. The soundscape was still firmly rooted in Stockholm's Death Metal, but the melodies were something different altogether.
Luckily, the success of Tales from the Thousand Lakes  – both in terms of reviews and album sales – proved him wrong. The album clocked up hundreds of thousands of unit sales, and left fans waiting for the next Amorphis-album. With hindsight you could say that "Black Winter Day" – as well as the rest of the second album's songs – created a new style in Metal. It was through the impact of Amorphis that many other Metal bands started adding keyboard players to their line-ups. This new style of melodic Black Metal, first heard on "Tales from the Thousand Lakes", laid the groundwork for other bands, such as Norway's Dimmu Borgir. 
Kingston Wall and guitar effects
Another band from Helsinki, Kingston Wall, started to make waves at the same time. Even though Kingston Wall were a psychedelic Prog-band, many Metal-fans also liked their material, as well as their take-no-prisoners live shows. Amorphis and Kingston Wall both had their rehearsal rooms at the same run-down culture centre, which led to Esa Holopainen and Kingston Wall's Petri Walli becoming friends. Esa was impressed by the way Petri used effect pedals to shape his own, personal tone. Walli was into using phasers, delays and wah-wahs, and soon the same effect types started appearing in Amorphis' material, too. 
Stage-divers and effect pedals
Esa started to experiment with using effect pedals onstage during gigs, but ran into problems straight away. Stage-diving was the rage at that time, and many stage-divers accidentally got entangled in Holopainen's effects in the heat of the moment. Singer Ville Tuomi's energetic stage act also had effect pedals sent flying across the stage, which in turn led to pedals breaking, and songs breaking down, because the guitar suddenly went quiet.
Esa usually had the mainstay Boss HM-2 in his signal path, along with a wah and a delay pedal to add some depth and breadth to his solos. This is what Esa has to say about his early effect use:
"I used my delay in the same way everybody else did – to cover up any bum notes during my solos. My use of a wah-wah was inspired by Petri Walli, who used it in very personal manner. He did lots of Rotovibe-style sounds with the wah, fuelled by among his oriental influences which he mixed with 70s Prog riffs".
A sound engineer, a guitar technician, and pedalboards
As the number of their live commitments grew, Amorphis started hiring in a proper crew for touring. They asked Kingston Wall's FOH-engineer, Robert Palomäki, to do their show also. They selected Kari Hynninen (Suomen Musiikki) for managerial duties, and hired in Mike Arakivi – an old friend of Esa's – as their guitar technician. Arakivi also built the first pedalboards for the band. They were prime examples of how to make the most of a small budget:
"When I came along, in January 1995, the band were still carrying their effect pedals in plastic bags, even though they had been touring for a couple of years already." Mike says. "I bought metal cases and hardy plywood, which I used for the bases of their pedalboards. Because most of their effects were Boss-units, I was able to get the job done using cable ties, running between the controls and the footswitch. You could even access the battery compartments, without having to take the effects off!"
"The whole touring thing was still run in a happy-go-lucky, haphazard fashion. There wasn't a concept of a "show", or anything. We had no lighting guy, and effect pedals were regularly stolen right off the stage. This led to a healthy amount of experimentation – a pedal went missing, you got something else to do the job, and the band's sound would 'evolve' in this organic way." says Mike with a laugh.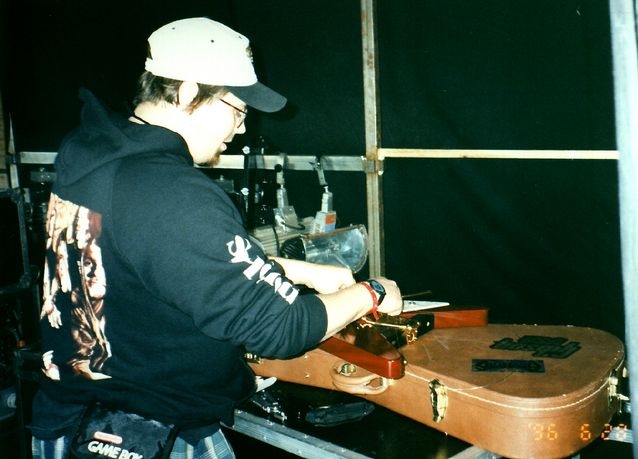 The coincidence factor
The record label wanted another hot seller as a follow-up, and Amorphis duly booked again their favourite studio in Stockholm. A day before their planned departure the band was informed that the studio was undergoing refurbishing, meaning it wasn't really available. So the band quickly switched to using Finnish facilities and a hired a producer from England. They chose Pete Coleman, who had created innovative sounds two years earlier with Paradise Lost´s Icon-album. He encouraged Amorphis to take a bold step away from the clichéd Death Metal sounds. The Boss HM-2 went unused this time.
At the same time, Amorphis' line-up went through several changes: Ville left to concentrate on his band Kyyria. Kasper decided to go and study for a degree. The band also had a new drummer, meaning that the line-up was very different to the one that had recorded their previous hit album.
"There were loads of guitar tracks on this record. It's likely that Esa hasn't played as many guitar parts on any of their other records. We got in as many different pieces of equipment as we could for the mixing and overdubs at Finnvox Studios, to achieve as broad a sound as possible. We even had semiacoustic guitars, tape delays and strange amplifiers.", Mike explains the atmosphere in studio. 
Esa remembers his effects and amplifiers from the Elegy-sessions:
"Before "Tales" I got myself a Lee Jackson Ampeg VL-1002 head, which I had equipped with 6550 tubes. This same amplifier was also used in the Elegy-sessions. My pedalboard included a Dunlop Wah, a Dunlop Rotovibe, a Small Stone- phaser and various delay pedals. That same Ampeg was used until I started co-operating with Koch Amplifiers right before the Tuonela-album. I used Koch for a decade or so, before changing to Bogner Shiva Anniversary amplifiers in 2009." 

From the first few seconds of the first track of "Elegy" you could already hear that a new wind was blowing from the North. The album starts out with Esa's wah-wah-guitar and oriental Coral electric sitar licks. New keyboardist Kim Rantala is featured on a Hammond organ. This combination of new and different sounds and traditional Metal instruments made for a delicious and highly original recipe. 
The album was a very big success, just as its predecessor. This was also the last album to see guitarist Koivusaari death grunting. Tomi wanted to concentrate on his guitar playing, and he went on to become the band's true rhythmic backbone. 
"Elegy" is full of different feels and atmospheres, and many fans still think that it is the band's best LP. The songs are strong, and the band's new singer, Pasi Koskinen, was a perfect fit. One of the record's high points is the track "My Kantele", which takes its themes from Finland's national epos "Kalevala". But Amorphis' members soon tired of their new role as standard bearers of Finnish mysticism in the media, and it took over ten years before they wrote a new song based on the Kalevala's themes. 
Amorphous describes band´s music perfectly
In 1997 Amorphis released an EP, named "My Kantele", which also contained a cover version of Kingstion Wall's song "And I Hear You Call". This version is a great example of the stylistic similarities between these two bands. Both have a penchant for progressive music and eastern-tinged melodies. At that time Esa's pedalboard had already grown considerably: In addition to the phaser, delay and wah, Esa's effect park included a compressor, a flanger, and an overdrive.  

After a long row of tours, Amorphis took a well-earned time-out from touring. Instead of running around moodily, clad in all-black Metal-outfits, the band members were more likely to be seen playing foot-bag with their neo-hippie friends. And instead of listening full-time to the likes of Metallica and Slayer, the Amorphis guys were more into (Finnish group) Piirpauke and Pink Floyd. This wasn't your typical stuck-in-the-mud Metal band.
Part 2 – Regression
The band's recording deal proved very unfavourable for the band. Both of their albums had been selling by the truckload, but the money coming in seemed to disappear into Relapse Records' coffers. In stark contrast the band were virtually penniless.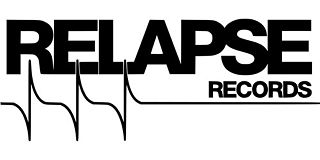 What influence did this have on Amorphis' music? For one, the band didn't see it necessary to produce a highly-commercial follow-up to "secure" their own financial situation. Heavy Metal fans the world over waited for the new album, but when "Tuonela" finally was released everybody was rather surprised. The first track – "The Way" – starts with clean guitars. There were clear David Gilmour influences, which thoroughly shocked the band's traditional Metal audience.
Rumba-magazine's Nalle Österman gave the record high marks and was full of praise for Esa Holopainen's guitar work. Amorphis had taken yet another step away from the Metal genre's tight style restrictions.
The band's new, lighter style, the Prog Rock influences, and the clean singing proved too much for some of the old fan base. "Tuonela" didn't sell as well as its predecessors. Not that this changed anything for Amorphis' members, they still hadn't received any royalties from their record label.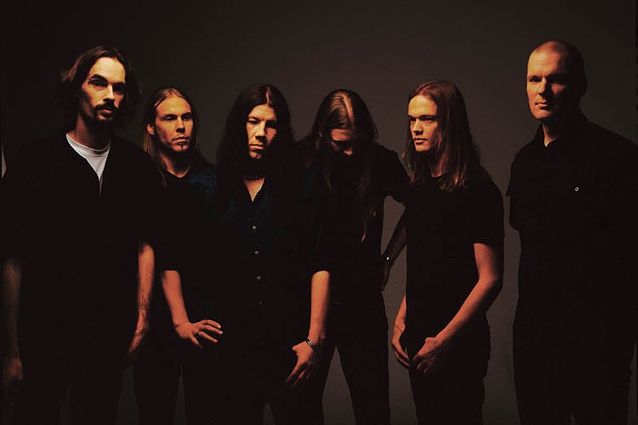 Part 3 – Ruin
"Tuonela's" change of style, plummeting record sales, and the festering financial problems of the band became too much for some band members, leading to line-up changes. Bass player Oppu Laine and Kim Rantala stepped aside. Niclas Etelävuori got on board as Amorphis' new bass player, and Santeri Kallio became their new keyboardist (both ex-Kyyria). The band members' expanding, grown-up tastes for different styles of music took Amorphis ever further into a Prog Rock direction. Their next album "Am Universum" even featured world musician Sakari Kukko from Piirpauke, which gave the record a stronger ethnic flavour. 
Despite a slight loss of a clear direction, this album includes one of Amorphis' live favourites, "Alone", with Esa's intricate delay sounds to the fore. This time he was using the effect as part of the main riff.
The band didn't seem to be able to shake off their ongoing problems. Drummer Pekka Kasari, who had been in the line-up since the "Elegy" album, left the band. Their recording deal stipulated one record more, and the band decided to start their career over and record the LP themselves. The resulting album – "Far from the Sun" – is seen by many as the weakest Amorphis-record. The recording sessions were a slow and painful process, due in large part to singer Pasi Koskinen's worsening alcohol problems. Koskinen also decided to concentrate on his own band, called Ajattara. This meant the search for a new singer was on, again. There weren't any gigs lined up either, so most of the band's crew started to look for employment elsewhere. 

The band had hit rock bottom – no singer, no audience, no manager, and no direction (musical or otherwise).

Part 4 – Reincarnation 
A longtime co-operator of the band – Jouni Markkanen – took on the job of Amorphis' manager. Slowly, but surely, he started getting the band back on track. The return of original drummer Jan Rechberger raised everyone's spirits. Rechberger, Etelävuori and Koivusaari were playing in the same pocket, turning the rhythm section of the band into a tight unit, and providing the perfect basis for the keyboard and lead guitar lines to take off from. Amorphis found a rejuvenated groove, and managed to secure a new record deal with their erstwhile Europe-only label Nuclear Blast.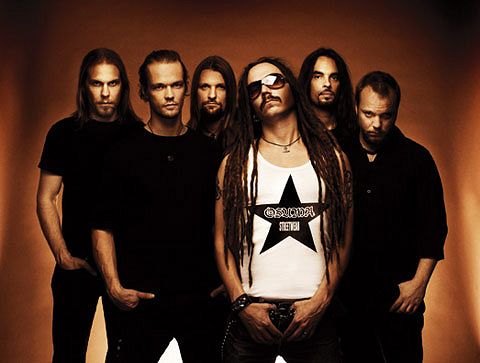 Acclaimed producer Mikko Karmila was taken on board as the upcoming album's producer. Yet the most-important piece of the puzzle fell in place with their new vocalist Tomi Joutsen, who breathed new life into the band. I have attended this new line-up's first show at Helsinki's Tavastia-club. Even though the club was only half-filled, you could sense that this really was going to be a new beginning for the band. It didn't take long for their eagerly-awaited new album to be released. "Eclipse" was an instant success, quickly becoming gold record -certified. A huge part of the album's success was down to the extremely catchy single "House of Sleep".  
Hit it while you can
Joutsen's joining Amorphis had an inspiring effect on the rest of the band, and they started planning a follow-up quickly. Keyboarder Santeri Kallio really came into his own as a songwriter after Joutsen joined the group. Kallio's increased output gave added breadth to the band's material, with him and Esa Holopainen bearing the brunt of songwriting duties, plus additional contributions from the rest of the group. There was a lot of great material, and the band even made a return to the Kalevala.
The band was getting ready to tour in earnest, which made it necessary to build up a cracking crew. Amorphis managed to secure Sami Koivisto as their FOH-mixer. Koivisto helped to focus the band's onstage sound, even motivating the band members to update their equipment.
Silent Waters
This album saw the return of Kalevala-inspired lyrics and very strong songs, making it a classic in Amorphis' back catalogue. The band managed to combine catchy tunes with Prog Rock elements in a killer package. The songs and arrangements were geared towards showcasing Tomi Joutsen's voice, who does a marvellous job. One of the best tracks is probably "Towards and Against", with Esa's delay-riffing again to the fore.
Esa's wide range of different effects, as well as his willingness to develop his live sound further, finally made our paths cross. At that time Esa's pedalboard was still quite rough, and it hadn't been updated in quite some time. All his effects were wired up in series in front of his amp. Our first project together was to find a way to put each effect into its own, separate loop.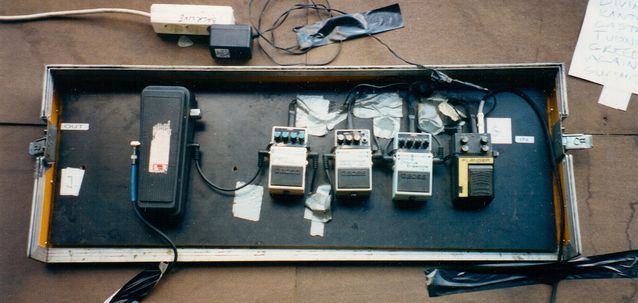 A new pedalboard
I redesigned Esa's system from the ground up. I installed a relay-based effect looper/controller on his pedalboard. This enabled Esa to have greater control over his effects, allowing him to turn several effects on and off at the same time. I made new patch cables for his whole pedalboard, integrated his amp's channel switch into the board, and prepared a cable snake and professional power supply unit for him.
Whetting the appetite
Due to my work on Esa's effects, I landed the job of Amorphis' guitar tech. I also got to redo Tomi Koivusaari's pedalboard in a similar fashion. We decided to install a single loop on Tomi's board, and hooked up all his effects to it.

It didn't take long before the band went back in the studio again. During the sessions it became ever clearer that Amorphis' guitarists needed a set-up that would allow them to play their live shows to a click track. With all the different delay settings for the different tempos of the songs on their setlist, changing the settings on the delay pedals grew ever more difficult and time-consuming. Drummer Jan Rechberger became increasingly narked at messed up tempos and riffs, due to wrongly-adjusted delay times. 
Esa had become intrigued by the possibilities of Line 6's new M13 multieffect-board. The M13 made it possible to programme exact delay times for every song patch. We bought identical units for both Amorphis-guitarists. Because Esa's sound and playing leaned more heavily on the use of certain effects than that of Koivusaari, I prepared two different set-ups for Esa (for different uses). The smaller set-up – consisting of just the Line 6 M13 plus a wah-pedal – was almost identical to Koivusaari's rig.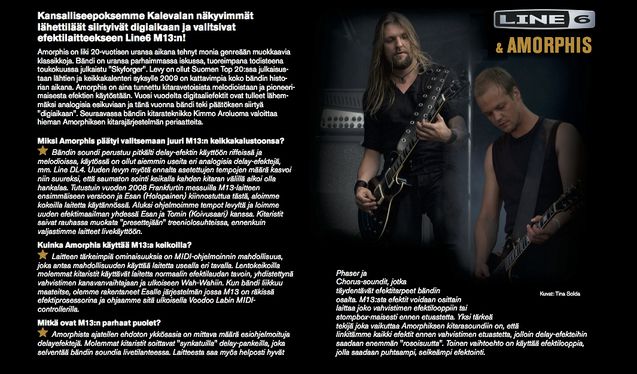 A new rig
For gigs done by road-travelling I assembled a very ambitious two-tiered system. The basic idea was to control two different amp stacks – one using Midi, and the other using relays. All effects were installed in a rack, and – because Esa still wanted to use his analogue pedals, too – controlled using a Voodoo Lab GCX looper and a Ground Control controller. The effects went into the rack, while the controller went onto the pedalboard, enabling Esa to access all effects from the front of the stage.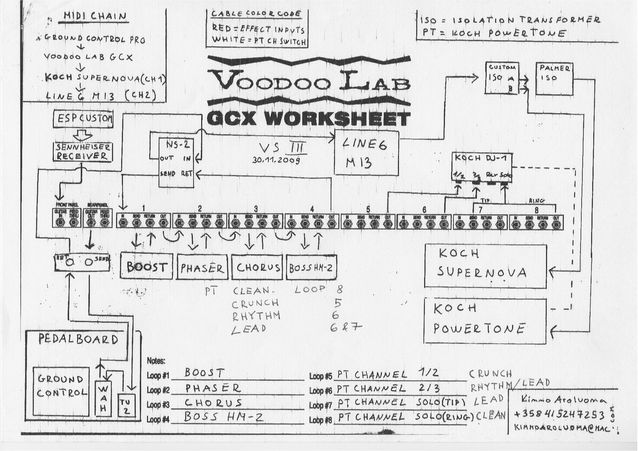 Back to Death Metal
Death grunting made a strong comeback in Amorphis' music, thanks to Tomi Joutsen joining the band. The guitarists experimented with different sounds in the studio, and even went back to adding the Boss HM-2 pedals to their set-ups. The classic sound inspired a classic song – "Majestic Beast" – which is one of the strongest tracks on what was to become the "Skyforger" album. 
So back the HM-2s went into the groups live set-ups, after a hiatus of ten years. This pedal's sound is something else. Even though Boss has "updated" and "improved" the sound for newer versions, the best tone is still to be had from the (now-vintage) Japanese HM-2 units.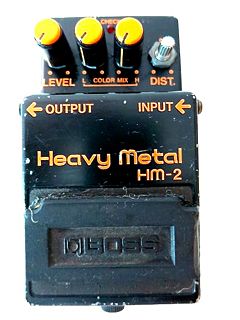 When you turn this pedal way up, the noise level grows exponentially, and you will need a noise gate/noise suppressor. I chose the Boss NS-2 for the job, and implemented it in such a way that the noise suppressor killed all the annoying noises in the signal path.
"Skyforger" was released in 2009 to great acclaim. Amorphis were at the top of their game, and released their long-waited first live-DVD, filmed on the Skyforger Tour. 
 
In a nod to their past, Amorphis then recorded an album worth of new versions of their best early songs, and then toured this album. The tour was a dream-come-true for many of their fans. The band were playing a tour of old tracks only, getting back to their heavy roots.
Keeping it up to date
I stopped being Amorphis' guitar technician in 2010, but I'm still involved with their guitarists' equipment to some degree. The band keep on evolving, and so does their equipment. Esa acquired a Catalinbread Echorec pedal for use in his home studio, because of its first-rate models of vintage Binson-echo sounds (favoured by David Gilmour). Esa never uses this pedal onstage, but takes it along to all of his recording sessions. He also chose to take the Echorec along to the video sessions for this article.
The band's next guitar tech, Johan Fallenius, came up with new pedalboards for fly-in gigs. The new boards are equipped with Eventide TimeFactor delay units, which Esa first spotted on Roger Waters' "The Wall Tour". Waters' guitarist, Dave Kilminster, had used the TimeFactor to great effect, recreating David Gilmour's delay tones off the original Pink Floyd album. Dave Kilminster even made his song-specific delay settings available to the general public – a godsend for Floyd fans.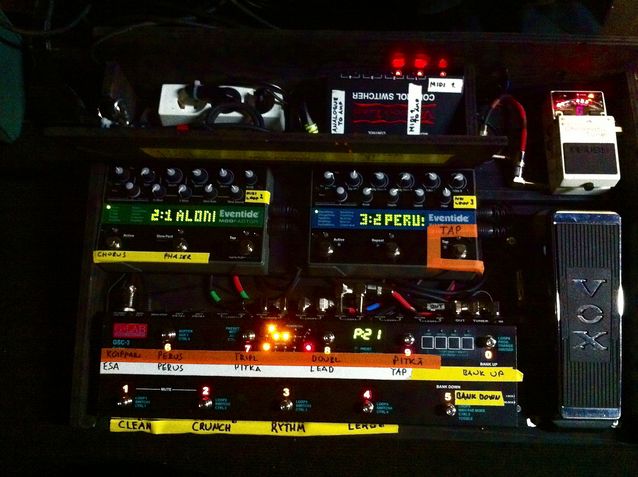 About a year ago Esa switched to using Kemper profiling amps on fly-in gigs. As I was writing this post, I have heard news that Esa is considering using the Strymon Timeline delay with his Kemper. A rolling stone gathers no moss, I thought to myself. The band's live mixer Sami Koivisto once said:
"Esa always sounds like Esa, regardless of the equipment he uses!" 
The circle closes
After their more progressive album "The Beginning of Times", the band were ready for a few changes, once more. Their collaborations with Mikko Karmila had been very fruitful, but the band wanted to move on.
Interestingly, they found what they were looking for in Sweden. The next record was produced by Peter Tägtgren. He is one of Sweden's foremost Metal-producers, who has taken the story up where Tomas Skogberg once left it.
The new album, called "Circle", kind of bundles and sums up Amorphis' whole career, going all the way from Death Metal to Prog Rock and Folk. The band's delay-enhanced current sound is closer to their first albums than it has been in years. When it was released in 2013, "Circle" became a great success, being awarded Metal Hammer's prestigious price for "Album of the Year".
Fire your imagination!
The early years of difficulties are only a distant shadow of the past these days. Amorphis have proven that they're a creative force to be reckoned with. They're back in the studio as we speak, working on their 12th album. What kind of record will it be? I think we all have to hold our breath and wait. Amorphis have always kept their fans on their toes, which makes the band so interesting.
15.10. 2014 Kimmo Aroluoma (Translated by Martin Berka)
The author is one of Custom Sounds' owners, and an incorrigible guitar and gear enthusiast.
CUSTOM SOUNDS DELAY PEDALS TOP 3:
The original Binson Echorec was the "secret weapon" behind many of Pink Floyd's most memorable delay-sounds. The original magnetic, disc-based unit sounded great, but was a pain in the proverbial, because it needed constant cleaning and servicing. Catalinbread's Echorec-pedal keeps all of the terrific sound, but puts it in a reliable package. This US-made pedal surely is one of the most-inspiring delays ever. There's an exciting air of unpredictability present here, same as in the vintage original.
Eventide has a long and illustrious track record as a maker of fine studio effects. The Time Factor gives you the Eventide sound in pedal form. Many still feel that this company's digital delay sound is the best there is. The Time Factor's USB-port even makes it possible to update the unit's sounds. Eventide's Time Factor goes neck-and-neck with the Strymon Timeline for the title of "best digital delay ever".
Strymon's Timeline is like an updated version of a Line 6. It offers you 12 completely unique delay types, as well as almost unlimited scope for adjustment. If you want a single pedal to do it all, the Timeline will oblige happily. Many feel that this is the best delay on the planet.