Björn Juhl is the creative mind behind all Mad Professor-amplifiers and effect pedals. The Mad Professor monicker isn't all that far fetched, and Björn's reputation precedes him. A video clip, shot at a Chicago trade show, ended up in a movie about boutique fuzz-pedal makers, and quickly turned him into a mythical figure among people in the know. A multifaceted, and at times quite complicated lecture Juhl held about guitar amps at Helsinki University has further cemented the man's legendary status. At the moment of writing, Björn Juhl is without doubt one of the world's most illustrious guitar pedal gurus.
We have the distinct pleasure of announcing to you that Mr Mad Professor himself, Björn Juhl, will be our featured guest at our upcoming Backstage Festival, held on October 11th and 12th. The event will take place at our Custom Sounds store (in Helsinki), where the story of the Mad Professor range of products was once set in motion. Tickets for the event are strictly limited, so get yours FROM HERE, before they're all gone.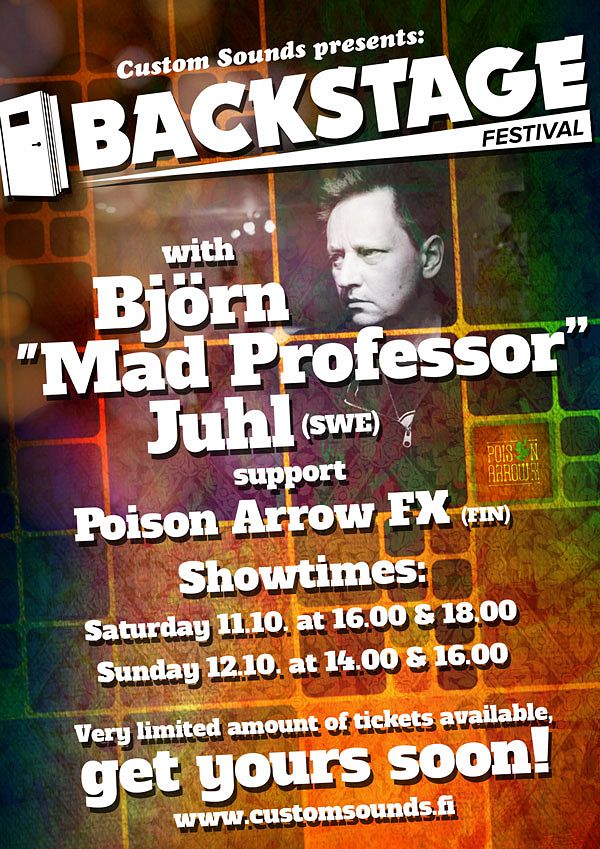 To celebrate Björn's arrival at the Backstage Festival, let us find out how it all started for Mad Professor, BJFE and Custom Sounds. I will tell the story based on the recollections of Mad Professor CEO (and Custom Sounds founder) Harri Koski, and Custom Sounds' co-owner Jani Marjoniemi. I've used my interviews with Harri and Jani as a basis for this article. We will have the honour of listening to Björn's own version of events firsthand at Backstage Festival.
The first pedal
Björn Juhl and Harri Koski met each other for the first time at a guitar fair in Stockholm (Sweden) in 2000. Harri had noticed Björn, who sat alone in his own little stall, with nothing but a bowl of sweets and a single guitar pedal in front of him. Harri introduced himself and the two of them started to chat.
Björn's main field of activity, at that time, was guitar amp modding and hot-rodding, and he had prepared a special guitar pedal for the trade show to demonstrate his views on great guitar tones. Harri tried the pedal, which sounded like an intoxicating mix of Blackface-Fender clarity and Marshall-muscle. Harri was smitten by the pedal's sonic palette. 
Custom Sounds and BJFE start their cooperation
Harri's Custom Sounds had been importing guitar effects for several years already, and Harri had gained a reputation for having a good "nose", when it came to guitar pedals. He seemed to possess a knack for finding pedals with that "special something", so he suggested a cooperation agreement to Björn. Custom Sounds would start selling BJFE-pedals, and also act as Juhl's distributor, taking advantage of Harri's considerable network of connections to guitar players worldwide. It took a lot of persuasion – and probably a considerable amount of beer – before Björn agreed to the deal.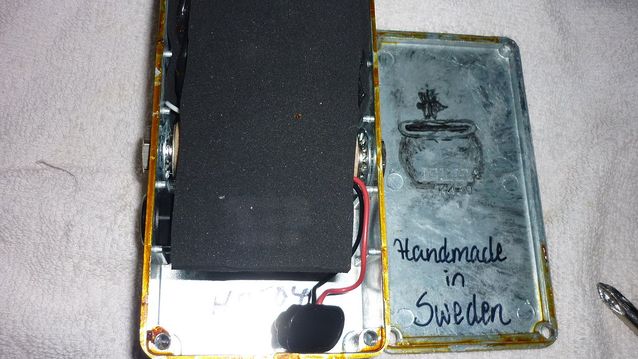 Surprised by sudden fame
Björn had called his first pedal, the one Harri tried in Stockholm, the Fuzz 1. Harri knew from experience that an overdrive-labelled pedal would sell in far greater numbers, so they decided to change the name to Baby Blue Overdrive. The term blue came from a Strat Björn himself had sprayed in a very fetching blue colour. He used up the quarts of paint left over from this project to spray the first batch of pedals.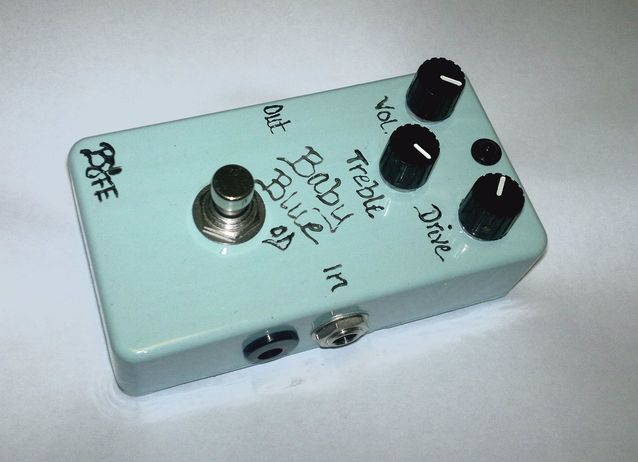 The Baby Blue Overdrive became an instant runaway success. In 2001 Custom Sounds was one of only a handful of Internet pages selling boutique pedals. Now, their web-presence also became an important marketing channel for BJFE's effect pedals. Some other small makers got all steamed up when Harri declared that the Baby Blue was "the world's finest overdrive pedal", scuttling their relationship with Custom Sounds in response.
Word about the new kid on the block spread like wildfire. Many guitar forums started so-called tourbox reviews of BJFE-pedals, where one pedal (or one brand) is reviewed by several (or all) members on a forum. BJFE's reputation kept on growing and the orders kept flooding in. Björn tried to keep up with the ever-increasing demand, but the workload started to become too much for just one man. 
Genuine handicraft
Björn had been making each and every pedal in the same manner he produced the first prototype. He etched his own circuit boards and hand-drilled every pedal casing. Björn's wife painted the pedals and applied all the lettering. When the workload started increasing, Björn got a friend in to drill the holes, which is why the exact placement of the controls and switches on some of the early production runs tend to vary slightly. All enclosures were ordered from Swedish company Elfa, who still supply the casings for the current Mad Professor Handwired-series.
The enclosures had originally been designed for use in hospitals, which means they are very sturdy. Harri tried his best to lessen Björn's workload by trying to find suitable subcontractors to manufacture the circuit boards, or by looking for alternative parts suppliers. This would have speeded up production, but Björn wanted to keep the reigns in his own hands, controlling every aspect of production personally from start to finish.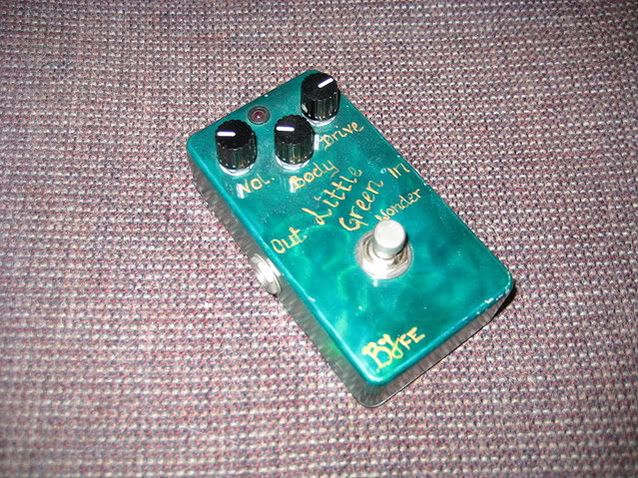 The Mad Professor amplifier is born
Back in 2001 Harri and Björn started discussing the possibility of creating a guitar amp. Modest, as the pair were, their aim was simply to create the best amp made today. Björn agreed to come up with a suitable design, but said he didn't want to actually build the amplifier himself. Harri had long been having his own amps serviced at Tampereen Wahvarikellari, run by Jukka Mönkkönen. Harri asked Jukka if he'd be interested in becoming a boutique amplifier maker, and Mönkkönen agreed to build Custom Sounds Amps (the amp's original name).
A few months later Harri and Jukka sourced a suitable cabinet manufacturer for their amps at a Finnish trade fair. Now, with all the building blocks suitably lined up, Harri and Jukka met Björn at a legendary meeting on a Stockholm-cruise, sailing the Baltic Sea between Helsinki and Stockholm.
During that cruise the gentlemen agreed on the production of the Mad Professor CS-40 guitar amplifier (CS = Custom Sounds), which became the first product to display the Mad Professor monicker. Many guitar buffs agree that the guys succeeded in their venture: The amp is a fantastic mix of top-drawer components, brilliant engineering and design, and outstanding workmanship. The team managed to get the first prototype ready in time for the Stockholm Guitar Show in 2002.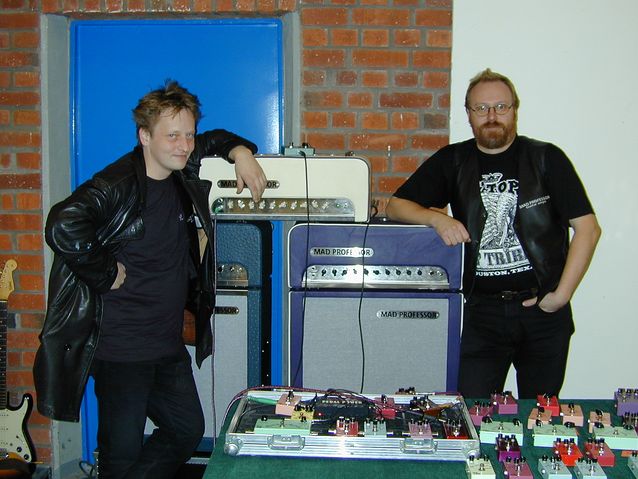 Should we produce more pedals?
Everyone was pleased with how the amp had turned out, and rave reviews were rolling in. This gave birth to the idea of manufacturing a whole range of Björn's pedal designs under the Mad Professor banner.
The BJFE-range had grown substantially by now, as had the demand, but the pedals' availability was still extremely limited. What was needed was a larger-scale manufacturer, who would be able to produce effect pedals to the highest possible standards.
Harri and Jukka tried hard to find a Finnish subcontractor, who could make the pedals in the required numbers and to the required quality standards. They got laughed at at trade fairs, when they turned up with a handful of circuit boards, looking for subcontractors. Sure, there was plenty of electronics know-how to go around, but industrial-scale guitar pedal production in Finland hadn't been attempted before. At long last the pair succeeded in finding an interested company in northern Finland, and production got underway, albeit slowly at first.
The first Mad Professor pedals
Mad Professor started manufacturing their first effect pedals in 2006, the same year Mad Professor Amplification Ltd was founded. BJFE's Little Green Wonder was the first pedal to be moved over to the new Mad Professor production line. This pedal was officially launched at Winter NAMM 2007.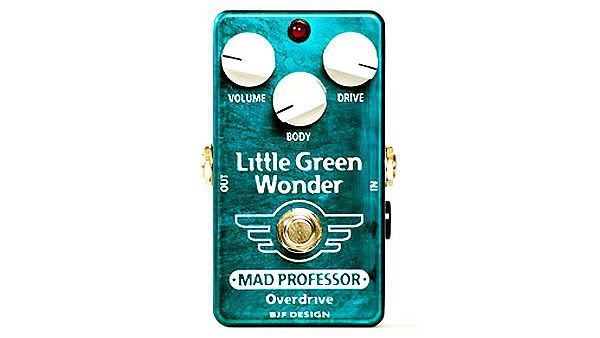 Next up was the Mighty Red Distortion, which was a new model that evolved from the BJFE Dyna Red Distortion. The third pedal launched – like the Mighty Red at Frankfurt Musikmesse 2007 – was a brand-new design, called the Deep Blue Delay. 
Of the first trio, the Deep Blue Delay was a real piece of pioneering design. At that time all delay pedals used to convert the whole incoming signal into digital and back again. Björn came up with a clever way of only syphoning off part of the analogue signal into the delay circuit for digital processing. The result was a very authentic-sounding Echoplex-style sound, which remained one of Harri Koski's personal favourites for years.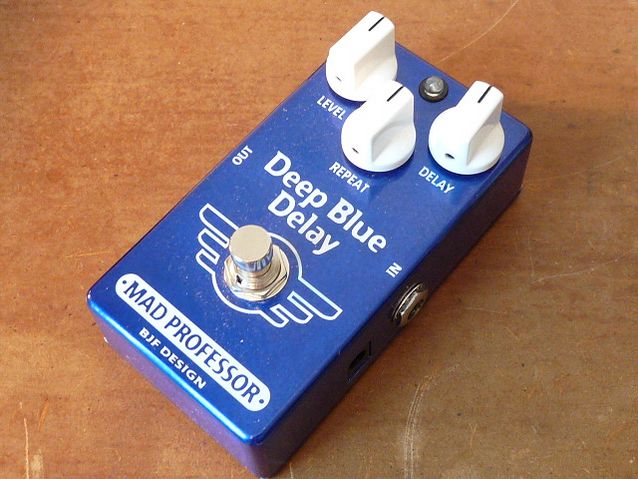 Creating a hit – by accident
Even though the Baby Blue Overdrive had been quite a success, BJFE still wasn't a household name. Björn Juhl made a Supro-tinged overdrive pedal as a special gift for Harri, who took the new pedal along to a trade fair. People who tried the new pedal fell in love instantly, so it went into general production. This pedal cemented BJFE's reputation as an effect pedal maker of the first order – the Honey Bee Overdrive. The Honey Bee is the single most-wanted BJFE-pedal around the world, and many guitarist's entry point to all things BJFE.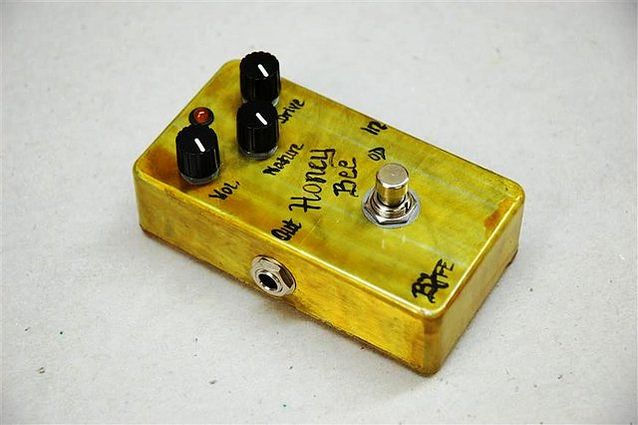 Custom Sounds co-owner Jani Marjoniemi still remembers how Sonic Youth's Thurston Moore and Lee Ranaldo ordered their own Honey Bees through their tour manager. They, too, had to wait for several months for the pedals to arrive, like all the other customers. There was some discussion, whether to integrate the Honey Bee into the Mad Professor range, but Björn always saw pedal design as an evolutionary process, and didn't want to use the same design concept more than once.
The basic sound of the Honey Bee is darkish, the pedal having been designed for use with bright-sounding Fender guitars and amps. The Mad Professor version, called the Sweet Honey Overdrive, is more open-sounding and offers more gain. Björn wanted the Sweet Honey to be the perfect companion to the Mad Professor-amplifier, so you could get Heavy Metal sounds, when using the Gain-channel. Still, the new pedal was easily controlled using the guitar's volume knob, which made it interesting for Blues guitarists, too.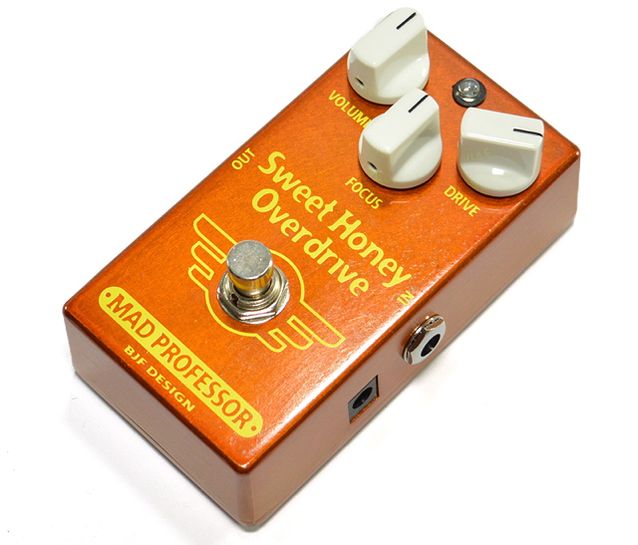 Waiting lists and back orders
BJFE-pedals went out all across the world. Most went to the USA, Japan and Australia, but demand was great in China, Thailand and Egypt, too. Finnish orders only made up around one percent of total orders. Sales to central and southern European countries were also comparatively slow, but by no means disappointing.
BJFE's waiting lists at Custom Sounds kept on getting longer and longer. Despite the existence of Mad Professor's pedal range, some people still wanted to own Björn's handcrafted versions. Retailers around the world also caught up to BJFE's growing reputation and started ordering ever-increasing numbers of effect pedals. Some of those orders listed up to 100 pedals. This all despite the fact that there were only precious few pedals to go around.
No more resales
At the beginning of 2008 Custom Sounds took the drastic step of informing retailers that BJFE-pedals would no longer be available for resale. In part this decision was taken to channel demand to the Mad Professor range of pedals. Still, Custom Sounds' own waiting list for BJFE-pedals just kept on growing. Pedals kept coming in, but at irregular intervals, and nobody at Custom Sounds ever knew in advance what Björn's next delivery would include. Usually, Björn would make a small run of certain pedals he would feel inspired to make, or for which he could easily obtain the correct components. Sometimes the delivery man would bring in twenty new pedals, at other times the flow would trickle down to two or three. Simultaneously, the pressure from customers bombarding Custom Sounds' mailbox would not let up.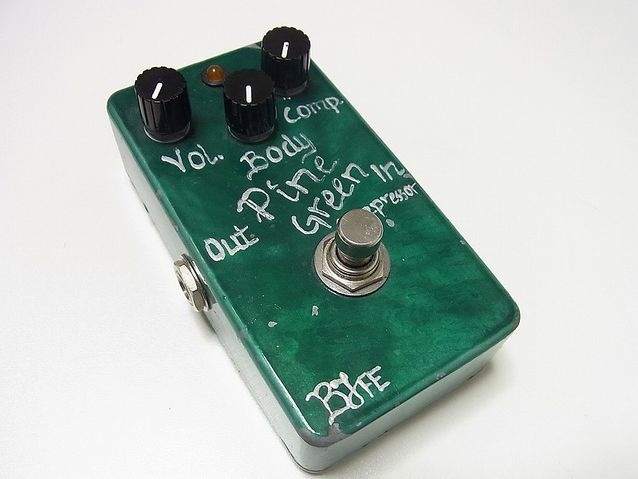 Green is the new black
In 2008 Mad Professor's pedal range already comprised seven different models. The newly-founded company tried to keep the ball rolling from the off. Luckily, they could always rely on Björn's creative genius for fresh ideas. Björn never intended for Mad Professor to supersede his own company – to this day he is still making his own range of BJFE-pedals. Most Mad Professor stomp boxes do differ, if ever so slightly, from similar BJFE models. For example, Mad Professor's Ruby Red Booster is an amalgamate of two of Björn's own booster pedals.
Included in the original range of seven effects was the best-selling Forest Green Compressor. Most compressor pedals at that time were copies of Ross-type compressors. MXR Dynacomp also audibly coloured the guitar signal. Björn and Harri, on the other hand, wanted to come up with a studio-quality, Universal Audio LA-style solution. Once again Björn came up with a stellar design offering organic compression with minimal background noise. The Forest Green also had its roots in a BJFE-model.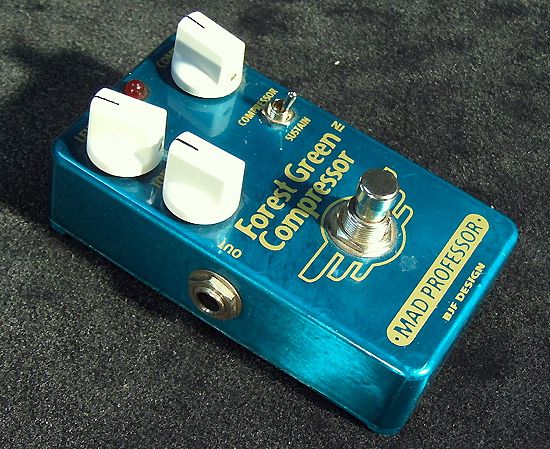 No advance payments, please!
One of Harri's best moves, when it came to marketing BJFE-pedals, was not to ask customers for any advance payments. Custom Sounds couldn't guarantee any order deadlines, as they weren't even sure what Björn was building at that moment, so Harri didn't want to promise customers anything he couldn't deliver.
From time to time Jani was asked by Harri to prepare a list of current back orders for Björn. These lists included numbers for how many pieces of each pedal Custom Sounds' customers were waiting for. Still, even if the list showed a back order of 50+ for the Honey Bee-pedal, Björn might decide on making five Blueberry Bass Overdrives, even if only three of those had been ordered! It seemed like those back order lists didn't faze Björn, he made pedals as and when inspiration struck.
Scalpers on the move
Harri asked Björn to either raise his prices or speed up his production rate. Björn didn't do either. Many guitarists were already put off by the high prices of his pedals, which stood at around 300 euros. Some scalpers – who had ordered new pedals from Custom Sounds – asked for much more on eBay (and other platforms). Even prices for used BJFE-pedals climbed into the range of 500 to 1,000 euros on the Net. This situation proved extremely frustrating for both Björn Juhl and Custom Sounds. Their motivation had always been superior tone, and not maximum profit, but now scalpers were skimming the market on their backs.
To keep his own spirits up, Björn started to make one-offs, labelled BJFE Custom Shop-pedals. Custom Sounds only got wind of this caper, when orders started coming in for models Jani and Harri had never heard of. At the same time they were still back-ordered for hundreds of regular BJFE-models. For a little while Björn even built more Custom Shop-pedals than his regular product range, but then even the production of these pedals started drying up.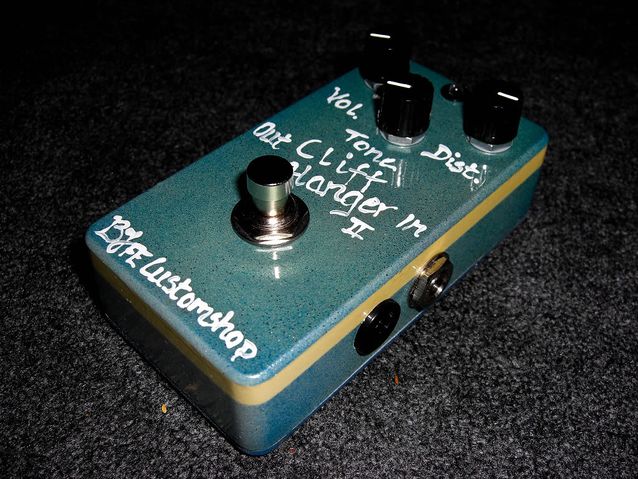 Mad Professor goes global
In spite of the problems with BJFE, demand for Mad Professor's own models kept on growing steadily. Still, some retailers kept complaining about the price of the pedals. Mad Professor had to ramp up production efficiency in order to improve their competitiveness against other pedal manufacturers. Harri knew that even some boutique brands weren't producing all of their effects themselves, so he went looking for a suitable Far Eastern subcontractor.
These days, many of the best audio components (like Alpha pots) are manufactured in Taiwan, so it seemed logical to look for a business partner on the island. Taiwan has a long history as a high-tech country, and many top-quality pedals are manufactured there (for example Z.Vex, ISP or Red Witch). After considerable effort was put into the finding and screening of potential candidates, Harri found a suitable company. Negotiations were started, and prototypes and trial runs were produced and sent to and from.
All the signs looked good. Jukka designed PCB-versions of Mad Professor's pedals for mass production, which used the same components as on the handcrafted series. Finally, everybody was convinced that this subcontractor would live up to expectations, and would be able to deliver the high levels of quality people had come to expect of Mad Professor-pedals. Production then started in earnest.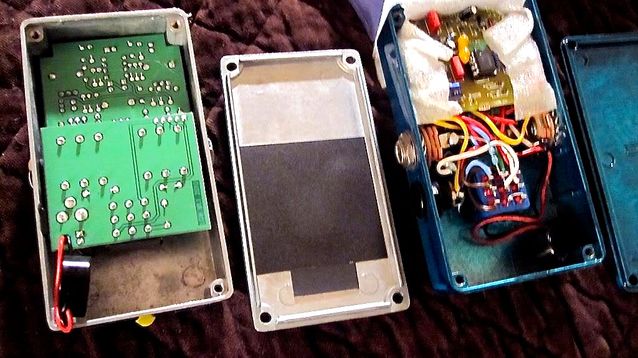 Quality with a capital Q
The quality of the new, mass-produced range of pedals proved at least as good, if not even better, than that of the handmade effects. The failure rate was so low that Harri seriously considered stopping Finnish production altogether. In the end both model ranges were kept going, because some retailers and customers still value hand-wired effect pedals. Effectively, this meant that there were three Björn Juhl-designed effect pedal ranges available, as Björn kept on making his BJFE-pedals in very limited numbers.
The new Far Eastern range really brought Mad Professor effects to the masses. New models were introduced to great acclaim. Even BJFE kept on going: During 2011-2012 Custom Sounds took delivery of approximately 30 BJFE-pedals, but the back orders already went into the thousands. BJFE's mythical status no doubt also fanned the demand for Mad Professor-pedals, which sold by the truckload.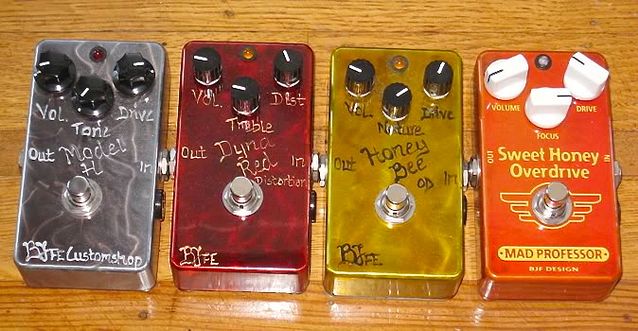 Enter: Guitar Center
Mad Professor's reputation finally reached Guitar Center's new purchasing agent. He was an expert in boutique-class effect pedals and wanted to raise Guitar Center's profile in this market segment. Up to that point the company had sold mostly mass-produced pedals made by well-established brands. Now Guitar Center opened a number of so-called Premium Stores around the US, which catered for the well-heeled customer.
Guitar Center approached Mad Professor with a view to producing a Guitar Center Exclusive model, in the same way they had already done with several other manufacturers (like MXR or T-Rex). 
The most-wanted sound in the world
One question was central: Which is the most sought-after guitar tone in the world? The answer was: Eric Johnson's lead sound. Guitar Center wanted to know if there was any way Mad Professor could distill this sound into a simple effect pedal. Björn and Harri set to work…
There was already an Eric Johnson signature fuzz, but Mad Professor's main men knew that the maestro's legendary tone wasn't down to just one single ingredient. Johnson also relied on a Marshall running at full tilt, as well as on an Echoplex-delay, which he used on virtually all of his solos. Björn decided to attempt coming up with a pedal that would offer the right tone, regardless of what specific amp was used.
Björn needed several attempts before ticking all of the right boxes, even though his first prototype already had plenty of the magical character. The biggest challenge was trying to squeeze two effects into a single pedal. In the end Jukka managed to transfer Björn's ingenious design into PCB-format, and the new effect box was ready to go into production. Mad Professor's team came up with a brilliant name for their brilliant new pedal – Golden Cello.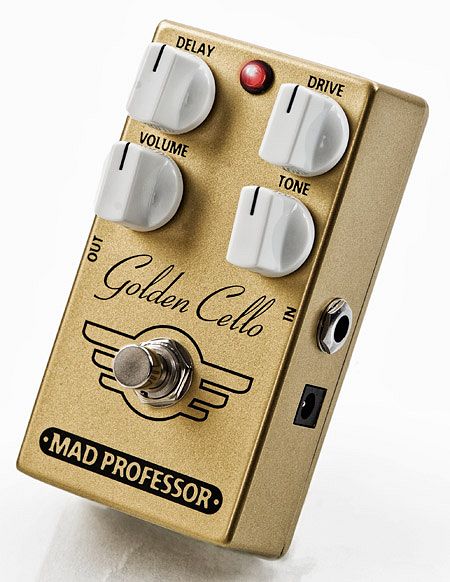 Guitar Center invested heavily in marketing the Mad Professor brand and the new, GC-exclusive pedal. The Mad Professor brand name appeared prominently on Guitar Center's homepage, a first for a boutique pedal maker. Full-page advertisements in all of the large guitar magazines guaranteed maximum exposure, even outside the USA. Even though some retailers grumbled at the exclusive Guitar Center-pedal, which they didn't have, this type of brand-recognition also helped to shift large amounts of other Mad Professor-pedals.
Still more pedals
About half a year after the Golden Cello, Mad Professor released the Amber Overdrive, which featured a very similar-sounding overdrive circuit. The Amber was even somewhat more versatile, because there was more physical space inside the pedal's enclosure, due to the Echoplex-circuit being left off. The Echoplex-style delay made a reappearance in Mad Professor's Bluebird Overdrive, which sounded distinctly different to the Golden Cello. The Bluebird was then followed by the Royal Blue Overdrive. All three overdrive pedals found their way into many a pedalboard all over the world.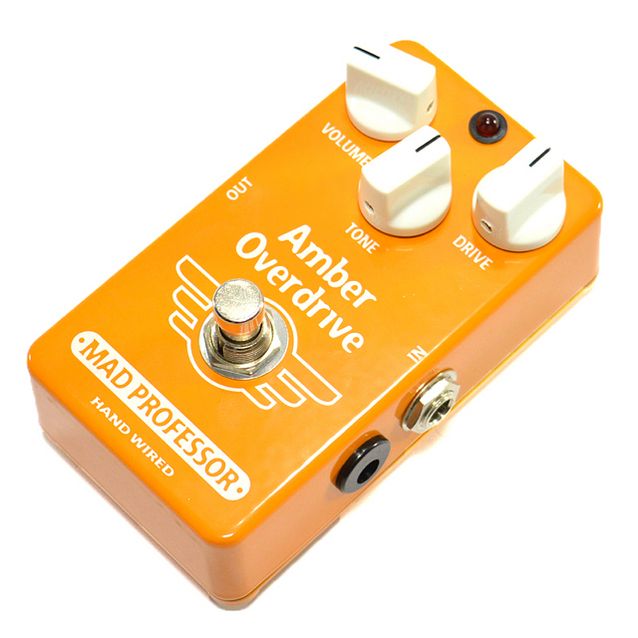 New owners for Custom Sounds
Due to Mad Professor's worldwide success, Harri found it increasingly hard to handle both Mad Professor's and Custom Sounds' businesses. He decided to concentrate on running Mad Professor, selling Custom Sounds to its current owners. New co-owner Jani Marjoniemi had already been running the day-to-day business of the Custom Sounds shop in Helsinki for some time. Jani was joined by yours truly, who had paid his dues as a professional guitar technician.
When we planned the reopening of the shop under our ownership, we hit upon the idea of inquiring of Björn, whether he'd be interested in building a special run of BJFE-pedals to celebrate the occasion.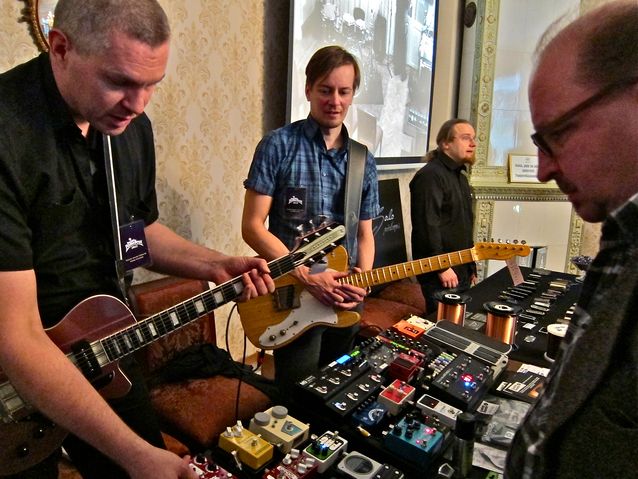 Björn's special surprise
Jani called Björn, who liked the idea, but wasn't quite sure of the type of pedal he would be building for us. A short time later he surprised us completely, by informing us that he'd decided on making a special run of 30 Baby Blue Overdrives to mark our opening. The Baby Blue, BJFE's first model, which started this whole success story!
This model hadn't been in production for years. Originally, it had used many NOS-components that had been out of production for some time. Rummaging through his storage room Björn found just enough of the correct parts for this special run. Björn's promise seemed almost too good to be true. We didn't want to be caught with our pants down, so we ordered the special run pedals well in advance of the opening of our new web-shop. When the pedals finally arrived Mad Professor's Harri and Jukka couldn't believe their eyes: They hadn't been able to get a single pedal from Björn for years, but we had a whole box full of Baby Blue Overdrives in storage!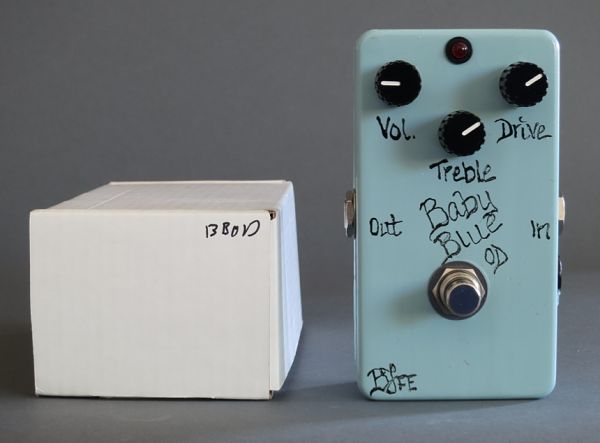 Custom Sounds' new web-shop was launched on November 11th, 2012. The limited run of Baby Blues went on sale at midnight – and they were all gone before breakfast!  
3.9.2014 Kimmo Aroluoma (translated by Martin Berka)
The author is one of Custom Sounds' owners, and an incorrigible guitar and gear enthusiast
Based on my interviews with Harri Koski and Jani Marjoniemi, conducted during August 2014.